In early 2017, food giants like Wal-Mart, Nestlé, and Unilever (among others) collaborated with IBM to apply blockchains to global food supply chains. On this platform, IBM will offer Blockchain-as-a-Service (BaaS) to build and participate in a private blockchain network spanning the entire global food supply chain. Food growers, distributors, suppliers, processors, retailers, regulators, and consumers themselves will have access to data on origin and transaction history of food products worldwide. According to IBM, investing in such a platform would enhance traceability and accountability among stakeholders. It was highlighted in a Forbes Report that by conventional methods Walmart took in 6 days, 18 hours, and 26 minutes to trace the exact farm location of mangoes. Using blockchain, the same task was completed in under 3 second.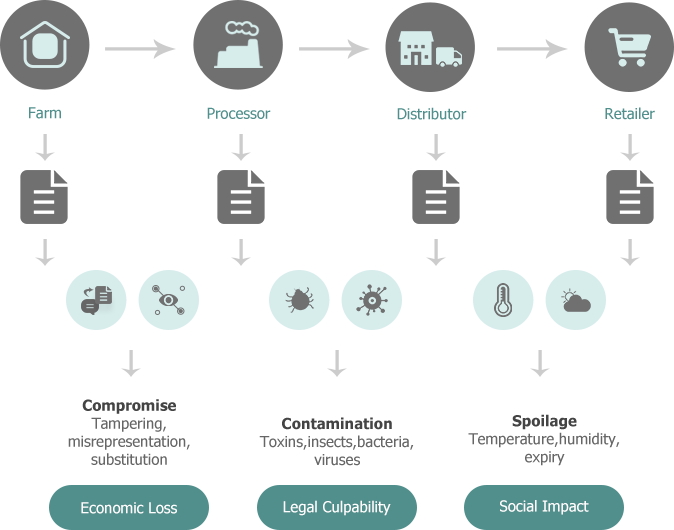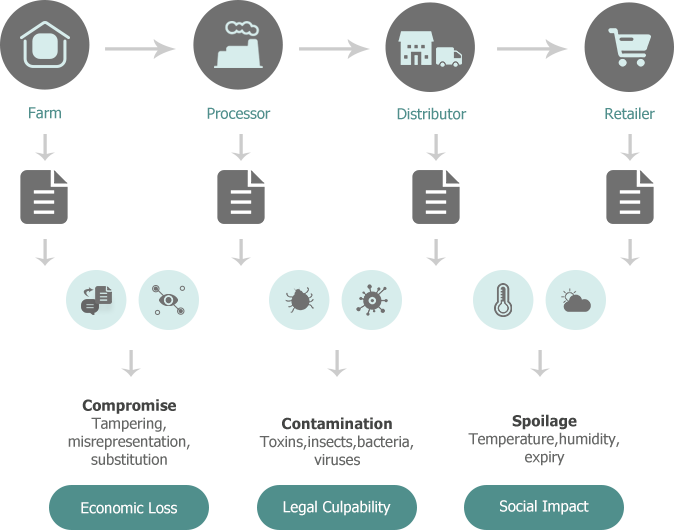 RFID and Blockchain Integration In Wine Supply Chain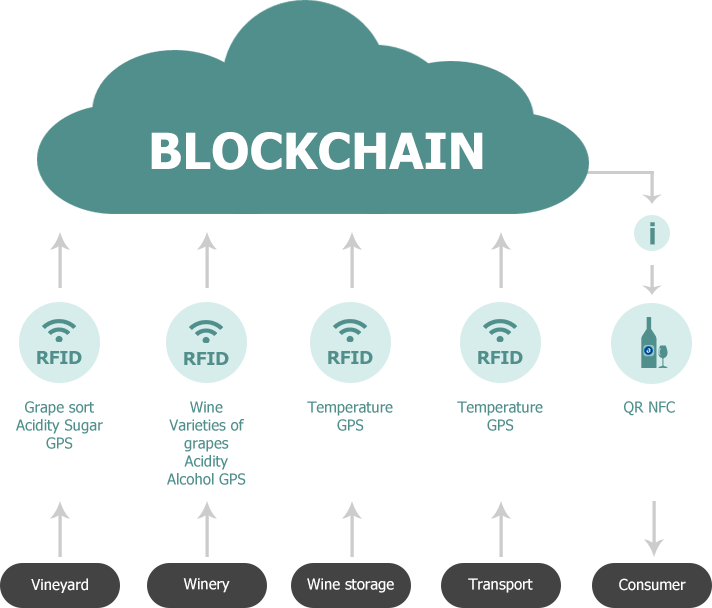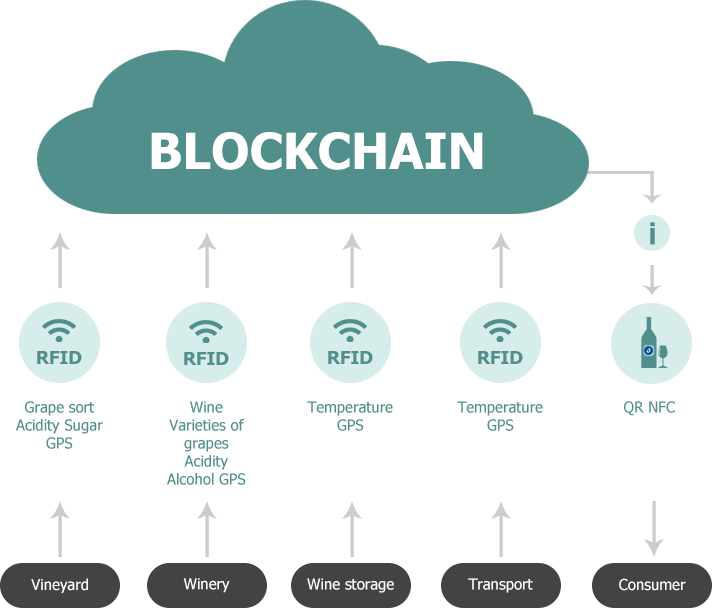 The structure described below allows us to unite in a continuous chain all participants in the wine production process to gather information at each stage. For each participant network infrastructure is created that includes:
RFID tag – attached to the products about which information is collected and tracking is performed. vineyard – a container for harvesting grapes,

winery – fermentation tanks, storage tanks,
warehouse – barrels, bottles, boxes,
Transportation – containers.

Sensors – RFID Sensor for collecting information. Any necessary information is collected by RFID sensors at each stage of production automatically. The information is transmitted with a given time interval to the transmitter and is connected to the RFID tags in the vicinity.
Transmitter – – any device (PDA, computer, smartphone) capable on the one hand communicate with RFID tag and RFID sensor, and on the other hand, to distribute the collected information through access points to the server using a wireless connection. The distance of the broadcast within the network, the dependence on the equipment reaches 250 meters.
Access points – access points configured to transfer information from the internal network to the server. Depending on the area of ​​the field, winery, and storage – it is necessary to install several access points that interact with each other in a common network.
Server – for collecting, storing and processing information.
Software for reading QR-Code and/or NFS to get and display information from the server about the drink selected. Wine and craft alcohol trading platform is integrated social ecosystem with counterfeit protection for buying, selling, trading beverage product.
Advice
Our Blockchain Development solution can implement ERC-20 together with ERC-721 standard used for exchangeable, non-fungible token and digital asset ownership. ERC-721 defines a minimum interface a smart contract must implement to allow unique tokens to be managed, owned, and traded. ERC-20 can create the TOKEN for transactions of exchange.
We offer a powerful combination of profound tech expertise, mature, low-risk processes, and proven experience in a variety of business domains to turn your business idea into reality. 
Schedule a Call with us now!